In April of 1923, a "slender Englishman" named Alf Ward walked into the office of Indianapolis mayor Lew Shank. He introduced himself as the new golf professional for city's municipal club. The mayor sent Alfred out to Irvington with shovels, horses, and a few men. He was to build Pleasant Run, the "finest municipal golf course in the country."2
Alfred started his career at Walton Heath Golf Club in Surrey where he assisted James Braid, the famous Scottish golf pro and course architect. Under Braid's guidance, he learned how to build golf courses and maintain greens and fairways.3,4 Pleasant Run was the 20th course Alfred had built or remodeled.5
Alf took his men and horses to the site of Pleasant Run and got right to work building a temporary 9-hole course before the new season. For the next two and a half years, he worked to build first this course followed by a brand new 18-hole course the next year. The job required hard labor, often seven days a week.7 Other golfers were surprised to find Alf on the site as early as 4 o'clock in the morning.8 The city parks department paid him a salary of $600 per year ($8429.33 in today's dollars).9 He also earned money teaching private lessons on the course.10
Mayor Shank, the city Parks Department, Charles "C. B." Davis the club president13 and club members in general were all pleased with Alfred's work building the course and skill at teaching golf.14 Even when the demanding physical labor led to prolonged illnesses15 that repeatedly forced Alfred out of tournament play16 the newspapers printed cheery little clips about him.17
Alf Ward is gaining his strength and the little Irvington Scotchman is expecting to be playing his regular game in midseason. He has been ruled off the course by the medicine man, but he manages to sneak in a few holes every now and then. His new course will be ready for business in late summer.17
Alfred resigned from Pleasant Run in 1925.18, 19 He moved on to become the first golf professional at the Martinsville Country Club in Morgan County, Indiana.20 He served in this position until 1928.21  In 1930, he appears in the US Census living at 923 N Hill St in South Bend, Indiana, working at the Notre Dame golf links.22
If there are any golf architects searching for a superintendent of construction for some big golf course they might try to get hold of Alf Ward, who recently resigned as professional at Pleasant run. Alf can build a golf course and he can build a good one….Alf is one of the hardest workers we have ever seen, and the manner in which he changed wilderness to a golf course is standing as evidence of this fact in an attractive section of the city.20
Last year when Ancestry.com released the US Social Security Applications and Claims Index, I finally found the record that solved one of the biggest mysteries of our family history: "What happened to Alfred Ward?" None of us knew where he went after 1923. We thought he died shortly after this. The index on Ancestry.com said: Alfred John Ward, white male, born 24 Jun 1887 in New York, NY, parents Thomas J Ward and Sarah.23 Aside from the birth year and place, it matched Alfred's details. I ordered the full document from the Social Security Administration.
When the record came in the mail, I was glad I took the chance and ordered it. The signature on the form was identical to Alfred's on two other documents. It also had information that was not in the index. He was unemployed and living at 441 S Pitcher St, Kalamazoo, Michigan. A quick city directory search told me this was the Kalamazoo County Michigan Transient Bureau. He was homeless.
The year was 1937, during a recession in the midst of the Great Depression. Many otherwise employed men were without work. Meanwhile, Alfred's 16 year-old son James was working full-time, supporting himself and his elderly uncle. James's mother had died the year before and he stepped up to be the breadwinner. There is a sad irony in viewing this record now, knowing the situation of all parties in the family. If Alfred had not deserted his family 14 years earlier, he would not have been homeless and without support.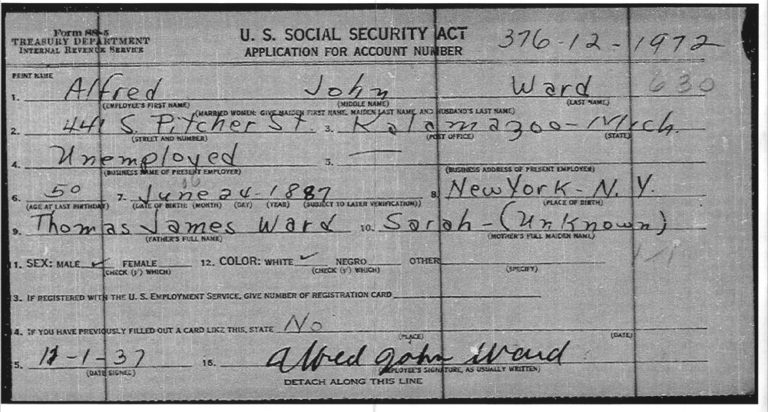 This record led me to other records in Michigan. Alfred Ward's 1942 World War II Draft Card24 lists him as an Odd Jobs laborer living at a boarding house in Grand Rapids, Michigan. At 5'9″ he weighed 128 pounds, had brown hair, blue eyes and a ruddy complexion. His closest contact was Paul Moon, president of the Muskegon, Michigan Savings Bank. He was also president of the Muskegon Country Club where Alfred worked in 1940.25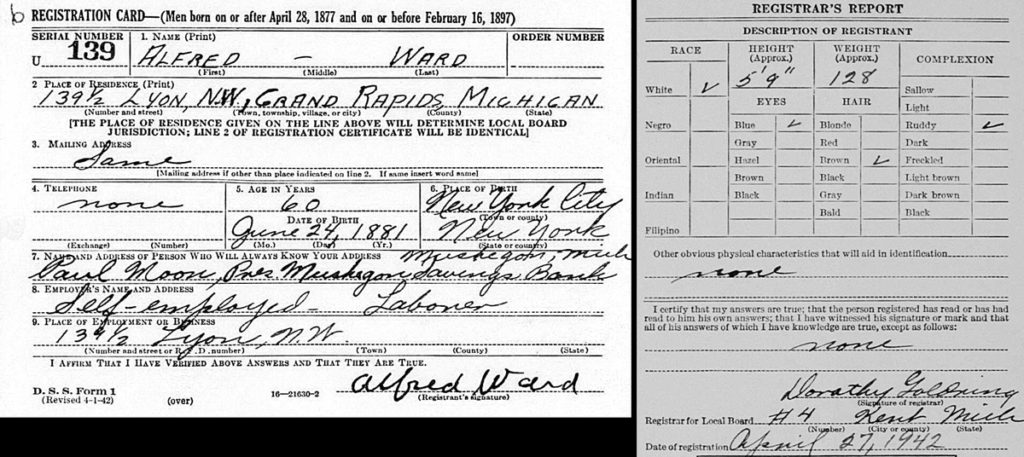 Alfred started listing his place of birth as New York instead of England in 1937, when he filled out his Social Security Application. I believe this was because he never completed the naturalization process. I found his Declaration of Intention filed in Monroe County, Indiana in 1923 but there was no subsequent Petition for Naturalization.26 His last entry into the USA was as a non-immigrant alien.27 This may have created problems for him becoming a citizen. For some reason unknown, he claimed to be a native born US Citizen although he clearly was not.
Alfred Ward died on 1 Aug 1953 in Grand Rapids, Michigan.28 He was buried in an unmarked pauper's grave in Washington Park Cemetery. His obituary and funeral notices appeared in the Grand Rapids Press and Herald. It says his nickname was "Scottie" and that he had no immediate survivors.
WARD–Alfred (Scottie) Ward, aged 69, of 139 Pearl St. NW, passed away Friday morning. There are no immediate survivors. Mr. Ward reposes at the Runstrom Funeral Home, 406 Michigan St, NE. Funeral announcement later. Arrangements by Henry C Spring. – The Grand Rapids (Michigan)Press, 1 Aug 1953.29
WARD–Graveside funeral services for Alfred (Scottie) Ward, aged 69, of 139 Pearl St NW, will be conducted at the family lot in Washington park Cemetery Monday at 4pm.. – The Grand Rapids (Michigan) Herald, 2 Aug 1953.30
Reference Notes