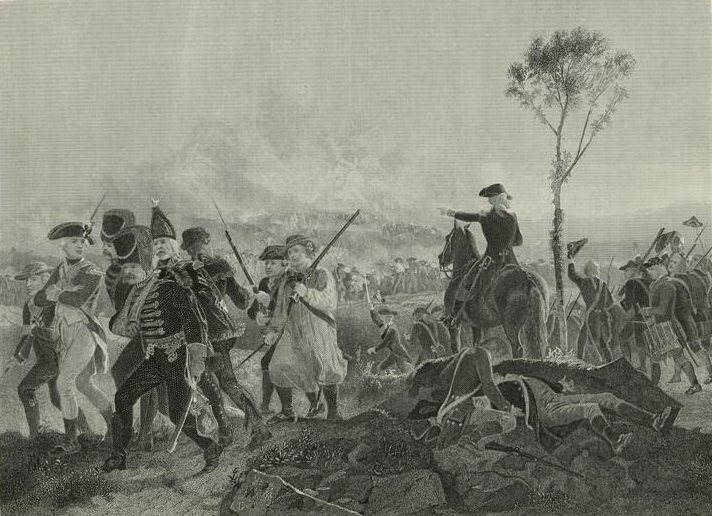 Hopestill Armstrong is my Revolutionary War ancestor, or one of them anyway. He was a member of Capt. Elijah Dewey's Co. of Col. Moses Robinson's Regt. of the Green Mountain Boys of Vermont. My grandmother Evelyn Jean Armstrong and my great aunt Helen Treva Armstrong Bergen were members of the Daughters of the American Revolution based on his service.2
Early Life
Born on 10 Apr 1746 in Norwich, New London, Connecticut, Hopestill was the fourth of eight children of Hopestill Armstrong Sr. and his wife Rebekah Durkee.3
In 1764, he came to Bennington, Vermont with his brother Lebbeus Armstrong and cousins Jonathan and Hezekiah Armstrong. Jonathan and Hezekiah were brothers to one another.4
Marriage and Children
Hopestill Armstrong married Lydia Haynes on 19 Nov 1772. She was the daughter of Jonathan Haynes and Ruth Paige of Norwich Connecticut. The Haynes family had come to Bennington in 1768, shortly after the Armstrongs arrived. Two of Lydia's sisters Miriam and Abigail married Hopestill's cousins Hezekiah and Jonathan.5
Hopestill Armstrong and Lydia Haynes had six children: Azariah Armstrong (1776), Sarah Armstrong Fillmore (1778), David Armstrong (1781), Oliver Armstrong (1783), Ruth Elizabeth Armstrong Dickinson (1785) and Ominda Armstrong Gerry (1788).6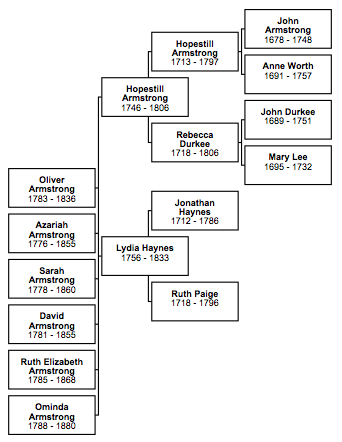 Return to Top ↩
Revolutionary War Service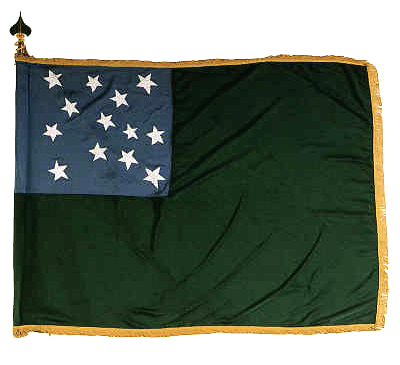 The Green Mountain Boys
Ethan Allen led several hundred of his men from the Green Mountain Boys in the Capture of Fort Ticonderoga on 10 May 1775.8 Under the leadership of Allen and Colonel Benedict Arnold, this surprise attack was an important early victory for the Continental Army. Hopestill Armstrong and his cousins were at Fort Ticonderoga with Elijah Dewey's company the next year. On 6 May 1777, Hopestill was among several soldiers and officers who signed a statement affirming that Capt. Dewey had led them during the Alarm at Fort Ticonderoga the previous October.9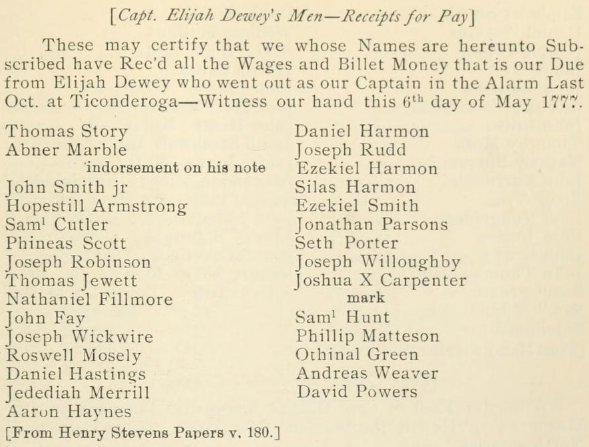 These may certify that we whose Names are here unto Subscribed have Rec'd all the Wages and Billet Money that is our Due from Elijah Dewey who went out as our Captain in the Alarm Last Oct. at Ticonderoga—Witness our hand this 6th day of May 1777.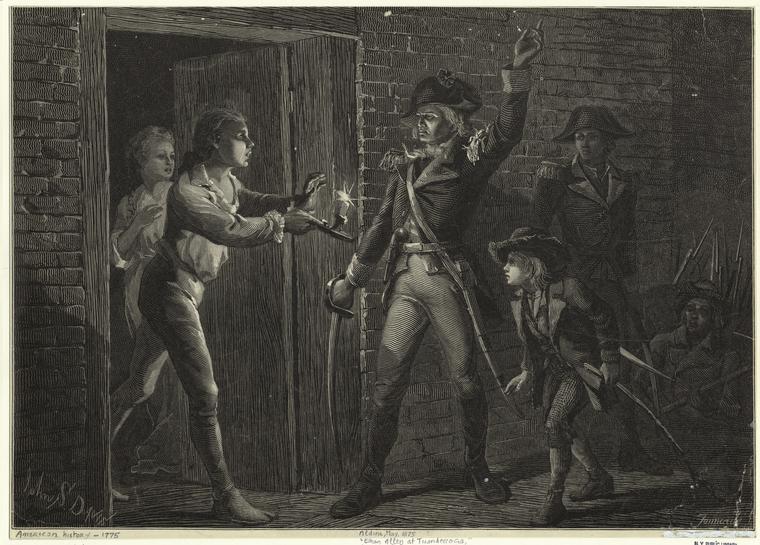 Relationship to President Millard Fillmore
Capt. Elijah Dewey's payroll lists for the men in his company were found among his papers after his death.  Hopestill Armstrong is on the list as one of his soldiers at Mount Independence in October of 1776.11 Also on the payroll is Ensign Nathaniel Fillmore, who became part of Hopestill's family by marriage. Nathaniel's son Elijah Fillmore married Hopestill Armstrong's daughter Sarah.12
Ens. Nathaniel Fillmore had two other sons, Nathaniel Jr. and Calvin, who moved to Cayuga County, New York around 1798.13 Together, they sold Hopestill Armstrong 450 acres in Locke Township near Summerhill.14 Hopestill bequeathed these 450 acres to his son, and my ancestor, Oliver Armstrong in his will.15 Nathaniel Fillmore, Jr. was the father of Millard Fillmore, the 13th President of the United States.16
The Battle of Bennington
Before any of this was to occur, the Green Mountain Boys would fight in the famous Battle of Bennington.17 Elijah Dewey's payroll for men involved in the battle on 16 Aug 1777 includes Hopestill Armstrong, his cousins Lebbeus and Hezekiah, and Ens. Nathaniel Fillmore. Several other men sharing surnames of Hopestill's family members are also on the list: Thomas Haynes, Aaron Haynes, Jonathan Haynes Jr, Amos Page, and Philemon Wood.18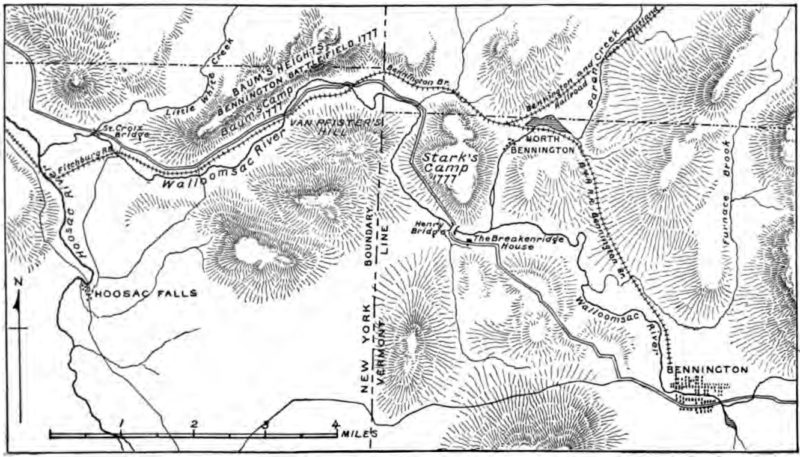 The Green Mountain Boys were not just fighting for American Independence. The militia organized in 1764 to defend their homes in the New Hampshire Grants, now known as the state of Vermont.20
Return to Top ↩
Post-war Life in Bennington
Life on the Frontier
Hopestill Armstrong lived with his family in a log cabin in the wilderness at the time of the Battle of Bennington.21 Thirteen years later, he appears as the head of his household in the First Census of the United States in 1790. The Armstrong residence consists of 4 males under age 16, 3 males over age 16, and 5 females, with 12 people total in the household.22 The figures for the Armstrong household in the 1800 Census are a little more detailed. 1 male 10-15, 5 males 16-25, 1 male over 45, 1 female 10-15, 1 female 16-25, 1 female over 45, 2 people in household under 16, 2 people in household over 25, 10 people in household total.23
Thomas Jefferson and James Madison visit Bennington
Thomas Jefferson and James Madison visited the town of Bennington on June 4-6, 1791. They traveled through several northern states on horseback in order to survey Revolutionary War battlefields. Jefferson and Madison were also raising support for their new Republican political party they would found in 1792. A 1977 issue of the Bennington Banner discusses citizens in the town who would have been in a position to meet the touring duo. Hopestill Armstrong's name is among these men.24
There were others of Bennington's Revolutionary era, still living and in this area in 1791, whose position in the community could qualify them to meet Jefferson and Madison…Hopestill Armstrong (d. 1806)…
Death and Legacy
Hopestill Armstrong died in Bennington on 25 Jan 1806.25 He is buried in Old Bennington Cemetery The following photos of the Graveyard and Hopestill's tombstone are linked through the record sharing mechanism on Find A Grave.26 Hopestill and Lydia Armstrong have many descendants living in America today.
Source: Hopestill Armstrong, Jr (1746 – 1806) – Find A Grave Memorial
Old Bennington Cemetery, Source: Hopestill Armstrong, Jr (1746 – 1806) – Find A Grave Memorial
Reference Notes