Early Life
Oliver Armstrong of Bennington, Vermont came into this world with big shoes to fill. He was born 26 Apr 1783, at the tail end of the America's war for Independence.1 His father Hopestill, along with uncles John, Lebbeus and Hezekiah Armstrong, were Revolutionary War veterans.2 Hopestill Armstrong was at Mount Independence in October of 17763 and fought at the famous Battle of Bennington on 16 Aug 1777.4 He was a private in Capt. Elijah Dewey's company of Colonel Robinson's Regiment of the Green Mountain Boys.5
Return to Top ↩
Marriage and Children
Oliver married 16 year-old Anna Poole in 1801.6 Her father Oliver Poole was also a Revolutionary War veteran. He was a Corporal in Captain Joseph's Soper's North Militia Company of Hanover, Massachusetts.7 Oliver and Anna had four children: Oliver H Armstrong (1802), Cyrus Armstrong (1804), Fidelia Armstrong Humphries (1807), and David Armstrong (1812).8
Locke, Cayuga County, New York (1807-1811)
Land Inheritance from Hopestill Armstrong
Hopestill Armstrong died in Bennington on 28 Jan 1806.9 Oliver moved his young family from Vermont to Locke Township, Cayuga County, New York. He is listed among the citizens of Locke in the 1810 US Census.10 Oliver inherited 450 acres of land in Locke, Cayuga County, New York in Hopestill's will.11 At first I thought Hopestill had received this land as a Bounty Grant for his war service. In fact, John Day was the initial recipient of the 600 acre lot in Locke.12 John Day sold the land to Benjamin Prescott in 1794. The 600 acres (450 reserved for private ownership and residence) changed hands several more times until Hopestill bought the parcel, sight unseen.
Relationship to President Millard Fillmore
Hopestill Armstrong purchased Lot 7 in the township of Locke, from brothers Calvin and Nathaniel Fillmore on 12 Nov 1803.13 He paid $1054. Nathaniel and Calvin were the brothers of Hopestill's son-in-law Elijah Fillmore. Elijah had married Hopestill's daughter Sarah Armstrong.3 Nathaniel's son Millard Fillmore, born in Summerhill in 1800, would grow up to be the 13th President of the United States. Their father Ensign Nathaniel Fillmore Sr. had served with Hopestill Armstrong in Elijah Dewey's company of the Green Mountain Boys.2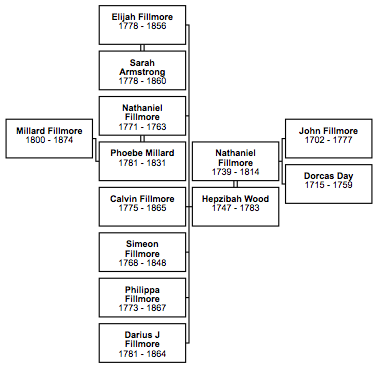 Lot 7 is shown on the map below near Summer Hill State Forest, the outline of the original lot still clear. The road cutting across the northeast corner of the 600 acre plot is Filmore Road.
Maumee Rapids, Ohio and the War of 1812
Oliver sold the land to his brother-in-law Francis Wood (the husband of his wife Anna's sister Lydia Poole) for $2000 on 12 Nov 1811.14 He then took his family to settle near Perrysburg in the Maumee River Valley of Ohio.8 The timing did not work in Oliver's favor, however. Settlers in the Maumee Rapids had to flee their homes after General Hull surrendered Fort Detroit during the War of 1812. Most of the property and possessions they left behind were looted, stolen or burned. In 1816, he and other settlers petitioned for compensation by the United States Government for lost property.15 Oliver Armstrong is on record, claiming for a stolen horse valued at $60. He also claimed a total of $525 in property that had been stolen, used or burnt, including wheat, hay and clothing.16 There is no evidence to indicate the US Government compensated him or any other setter in the area who filed a claim.
Return to Top ↩
Springfield, Clark County, Ohio (1814-1836)
Death of Wife Anna and Remarriage
Oliver Armstrong brought his wife and four children to Springfield, Clark County, Ohio in 1814.17 Here he became a fixture among the town's early leaders and earned a permanent place in its history books. Tragically, Oliver's wife Anna died on 17 Mar 1814, shortly after their arrival in Clark County.18 Having four young children to care for, Oliver quickly remarried in 1815 to Mrs. Lucinda Paige Muzzy, widow of Joseph Muzzy.8 Together Oliver and Lucinda had four more children: William Armstrong (about 1816), Ominda Armstrong Huntington (1818), Lucinda Paige Armstrong Frankenberg (1824), and Louisa Armstrong (1825).8 Oliver Armstrong and family appear in the 1820 US Census and 1830 US Census for Clark County, Ohio.19, 20
General of the Militia
The Octogenial Book was a publication celebrating the 150th anniversary of the First Presbyterian Church in Springfield. It mentions Oliver Armstrong as one of the first members elected to its board of trustees. The book contains a passage from his daughter Lucinda Armstrong Frankenberg. She fondly recalls watching her father, who they called General Armstrong, at militia muster days. Oliver Armstrong was a militia general along with Charles Anthony and Sampson Mason.21
Abolitionist Activities
In volume 2 of Yesteryear in Clark County, Ohio, Lucinda Armstrong Frankenburg again discussed her father's early years in Springfield. Oliver Armstrong was an abolitionist with a reputation of providing employment for runaway slaves.
My father was a strong Abolitionist, and I can remember in my childhood there was always a great many colored servants about, for as soon as a runaway slave came to this part of the country he would go to my father for employment. That little frame house which stands back in the lot at the northwest corner of Greenmount Ave. and High St. was built by my father for a runaway slave and his wife.22
Death and Legacy
Oliver Armstrong died on 14 Sep 1836.23 The Springfield Pioneer published his obituary on 23 Oct 1836.24 It is quite long and offers some valuable biographical details about the family.
Reference Notes