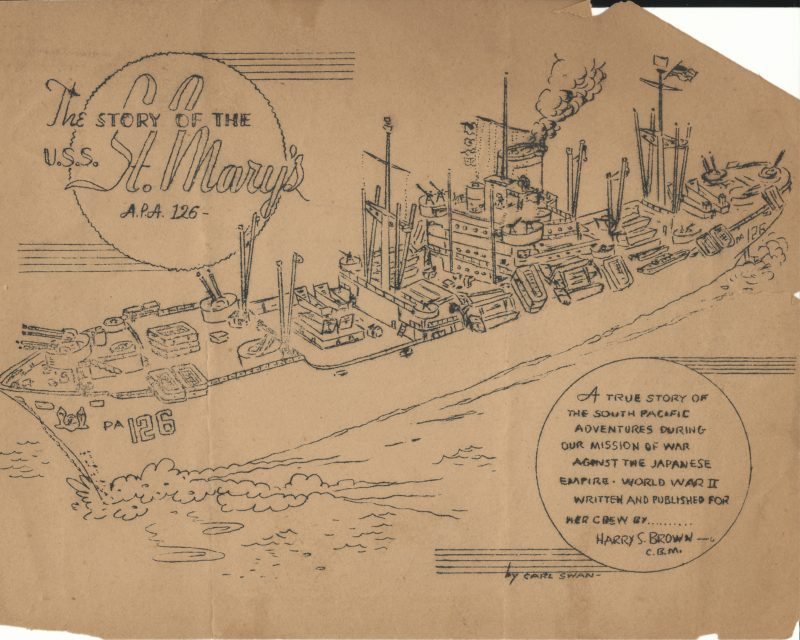 The Story of the USS St. Mary's, APA-126 is the Navy Cruise Book for the ship's maiden voyage in 1945. I digitized and transcribed the document from my grandfather James Joseph Ward's personal WWII items. He served aboard the St. Mary's during the war.
Click here to read or download a pdf copy of this cruise book:
The text of the document is transcribed as follows:
TO MY SHIPMATES:
IN MY OWN FASHION, I HAVE TRIED TO WRITE THE STORY OF THE ST. MARY'S. IT IS YOUR STORY AND I HAVE TRIED TO MAKE IT A FACTUAL STORY, I HAVE TRIED TO CATCH THINGS AS I REMEMBER THEM.
MY FIRST LOVE IN THE NAVY WAS A FOUR STACKER DESTROYER, IN MY ESTIMATION THERE WILL NEVER BE ANOTHER LIKE HER. NO SHIP CAN QUITE TAKE HER PLACE IN MY HEART.
THE ST. MARY'S HAS TAKEN ME INTO BATTLE AND BROUGHT ME OUT SAFELY. I CAN'T HELP BUT HAVE SOME AFFECTION FOR HER.
IN THE NEXT FEW MONTHS, WE AS A CREW WILL BE DISSOLVED THEN THERE WILL BE NO ST. MARY'S. YOU, THE MEN WHO LIVE ON HER ARE THE ST. MARY'S. YOU ARE THE LIFE AND HEART OF HER.
IN YOUR FUTURE JOURNEYS MAY YOUR HIGHWAYS HAVE NO TRAFFIC JAMS, AND THE SEAS YOU SAIL BE SMOOTH ONES.
I AM PROUD TO HAVE SERVED WITH YOU.
HARRY S. BROWN, CBM
On May 24th we are underway for Guam and stop ther a few hours to exchange some boats. We continue to Leyte, arriving there on May 29th. Fuel, and continue on to Subic Bay, arriving there May 31st.
At Subic, leagues are organized in the Squadron. Three leagues are organized. Enlisted men, Chiefs and one for the officers. The Chiefs and Enlisted men's teams managed to stay in the win column, but the wardroom couldn't seem to click.
Quite a bit of fazzing was due them and to their credit they took it like gentlemen.
A few days were spent in Manila from June 13th to 18th. Liberty parties saw this city in a ravaged state. A city that had taken a beating from both sides. Few if any buildings were without shell holes. Bombs fire had wiped out scores of buildings.
Out in the Bay, masts and super-structures, of sunken ships, stick out of the water in a grotesque pattern. Here was an example of a city destroyed by modern war. We had been at rest long enough, we begin to wonder what our next assignment will be. On June 26th we leave Subic for Leyte and arrive ther the 28th.
The next three weeks we are training troops of the 81st Division.
On July 26th we go to Iloilo. There we train more troops.
Then an atomic bomb is dropped on Japan. Japan offers peace. Hope comes up in us, but we have fought them for three years, and find it hard to believe that these fanatics will surrender. The surrender becomes a fact. Men bursts out cheering, guns are fired and whistles blown.
The war is over. Men are as different in the reception of this fact, as they are in all others. Some are in a hilarious mood, some can't believe it. They are still in the war. Thoughts come to them. Thoughts of days and nights filled with tension, thoughts of men who weren't here, of men in prison camps, of homes, mothers and families, those mothers need worry no more.
Thoughts go back to President Roosevelt, how his death had stired us all and the joy of this victory would have given him.
The final phase of the war beckons us, we are loaded with troops of the 1st Cavalry
Cavalry and headed for Tokyo Bay, a typhoon ahead of us forces us into Subic Bay for two days.
A holiday feeling is in the air, the point system for release is being argued pro and con. The men who have sufficient points plan on being home for Christmas. The rest are wondering how long it will mean for them. Anyway are going to see Tokyo Bay.
The morning of September 2nd 1945, finds us steaming into Toky Bay. We see the MISSOURI, her flags flying and her crew in whites for the occasion. Planes make a continual thunder overhead, about five hundred Carrier planes come over in a group almost wing to wing. A Jap seagull squawks in dismay, and in Jap character comes down to the water and head toward the shore, yelling as he goes, "You guys don't play fair, you guy too many planes".
We are proud; proud to be a part of this. The spirits of John Paul Jones, David Lawrence and thousands of blue clad sailors sail with us. Is that a cheer we hear, from them up there?
We take a deep breath and are proud that as Americans we have fulfilled our promise.
TOKYO! THE ST. MARY'S IS BACK!
S-O-M-E F-A-C-T-S
The ST. MARY'S is 455'3" in length. Her beam is 61'1". Draft, loaded, 29'0. Draft, light 9'9″. Gross tonnage, 7,408 tons. She is fitted to carry 4601 dead weight tons car-go, with full load of troops and equipment, total weight 12,475 tons.
Her horsepower is 8500 and her designed maximum speed is 17 knots.
The armament of the ship consists of 1 5″38 cal, 4 twin 40 mm, 1 quad 40 mm and 10 20 mm, Up to September 2, 1945 We had expended 206 rounds of 5″ shells, 11,561 round of 40 mm and 15,148 rounds of 20 mm.
From the pay master's office:
Clothing and small stores sold $17,965,50
Ship's store sales $46,679,35
Pay of officers (actual payments) $46,564,77
Pay of crew (actual payments) $187,807,00
Gov't checks written by Disbursing Officer. $187,076,87
Total allowed pay on books as of 31 August 1945 $113,000
Number of men drawing family allowance benefits 275
Number of men, allotments registered aboard. 161
Total monthly allotment checkage (Officer) 7,886,84
Total monthly allotment checkage (Crew) 13,734,56
From January 1 to September 2nd we ate in addition to other things, 29,950 pounds of sugar, 27861 pounds of beef and 63,400 pounds of flour. We ate 85 pies at a meal. The baker averaged baking 220 loaves of bread a day.
The dentist pulled 165 teeth, cleaned 125 and filled 1044.
The Medical Department has given 1890 inoculations, 34 operations, has had 833 patients in sick bay. The average patient was in sick bay 4,65 days. 11,422 men attended sick call, 21,000,000 units of penicillin were used, 25,000 aspirins were dispensed.
It took 6,442,527 revolutions of the drive shaft, 1,487,462 gallons of fuel and 24,829,2 miles were run up on the engines to roach Tokyo.
Our average speed was 11.1 knots per hour, used 122,3 gallons of fuel per hour and averaged 1 mile to 35 gallons of fuel.
The number of times we went to General Quarters is practically unaccountable, but we were called to battle stations by "flash reds" approximately 46 times. This does not include raids that came in while we were at routine morning and evening General Quarters.
On September 4, 1944 at the Los Angeles Shipyard, California Ship-building Corporation, Wilmington, California, the hull that was known as Troopship #10, was christened "The U.S.S. ST. MARY'S"APA-126) and launched. The Ship was sponsored by Mrs. Arthur M. Tode.
Weeks before she was launched, the Navy began gathering a crew for her. From the four corners of the naval globe they came. Officers, Chiefs, 1st, 2nd, and 3rd class petty officers and non-rated men, all rates, all nationalities. A nucleus crew was formed at the Small Craft Training Center, San Pedro, California. These were the men who had been to sea. This was the group around which the ship's company would be formed.
Among this group were men who had seen action at Midway, the Solomons, the Coral Sea, the Gilberts, the Marshalls, the Bering Sea and the European Theatre. Some were survivors of such ships as the Hornet, Astoria, Walke and the Susan B. Anthony.
From Training Stations and schools the balance of the ship's company came. These were mostly men who had never been to sea.
After a stiff eight weeks of schooling in Gunnery, Damage Control, Fire School, Signals, Seamanship and all of the things one should know aboard ship, we, as a ship's company, were transferred to the Receiving Ship, there to await the commissioning of our ship. Here we lived the "Life of Riley," little work and lots of liberty. But to all of us, there was the knowledge that soon there would be no liberty.
A commissioning party was planned and held on the night of November 2, 1944 at the Veterans Building, Long Beach, California. Seventy-five cases of beer were brought, also, hams, cheese, potato chips, pickles and all the fixtures, An orchestra was obtained from S.C.T.C.
On November 14, the crew of the ST. MARY's moved aboard. Booms were rigged, stores and supplies began moving aboard. The new men began to get an idea of how much it takes to run a ship. Loading continued until late in the night, tomorrow was commissioning date.
On the 15th some cargo was brought aboard, but most of the time was taken in preparing for the ceremony. At 1300 friends and relatives of the crew began coming aboard. About 1400 the official party and band arrived from S.C.T.C.
In an impressive ceremony, Commodore HIEM placed the ship in commission, the watch was stationed and colors broken. The colors used were from the original ST. MARY'S which had visited Japan in 1853. Captain E.R. GLOSTEN, USNR, assumed command.
The slogan adopted for the ship was "TOKYO! THE ST. MARY'S IS COMING BACK"
Troop ship #10 was no longer just a hull, she was a ship, a member of the United States Navy. She was alive!
Now our training began in earnest. A combat transport had many duties, as we were to learn. Her basic purpose was to land troops on enemy beach-heads. But she could be, and had to be prepared for other things, such as carrying cargo and handling casualties.
In the weeks to follow, boat crews and, hatch and davit crews were to learn many things. Boats were launched and then taken aboard. Cargo was Leaded into boats and unloaded. Team work developed rapidly. All departments were getting ready for the job ahead.
During the training period, a tragic accident took the life of Leonard JAKALSKI, MoMM3c. Leonard died in the line of duty. His shipmates and friends mourned his loss, but, we had to continue with our work.
On December 20th, we were in the Todd Shipyard at Los Angeles. Liberty was getting very precious now. Over Christmas, two forty-eight hour liberties were granted. More stores and supplies were brought aboard. To most of the men whose families were in the Los Angeles area, New Year's eve was their last liberty.
We now a member of the fleet, having been attached to Transport Division 49, Transport Squadron 17, SEVENTH Fleet.
New Year's day 1945, we were en route to San Diego, California and on the 2nd we are tied up at the foot of broadway and began loading with bull-dozers, airplane motors and bomb service trucks.
With two last liberties here, we were like men who were facing starvation, with plenty of food before them, but who knew there would be none tomorrow. In those two nights we tried to crowd enough fun and gaiety into ourselves to last us through the months ahead. Even the men who had never been to sea could feel the weight of those lonely months ahead.
To sailors, last liberties are precious things. No time was to be wasted. This would be the liberty we would count from. The one we would remember in detail, the one we would talk about most.
There is something pitiful about a last liberty.
A sailor and his wife are sitting in a "night club". They are here because they don't want to feel the pressure of this last evening together alone. They want company, something to drive away the dread of saying "goodbye". They are sitting close to each other, absorbing each other. There isn't much conversation between them. She is filled with the thought that "she may never feel the warmth of this man again, she has sent him to sea before and she will send him back tomorrow morning". The fears she hides in her heart we cannot know, but only guess.
He is thinking how nice it is to enjoy the relaxation of a drink and the company of the woman he loves. Thoughts slip in of how lonesome he will be in the months to come and of how the face of this woman will be with him. She will we walk the decks with him, she will be with him on those long night watches, when death rushes close she, will be beside him giving him the courage to go on. She is the woman who knows his fears. She has awakened him out of his nightmares and convinced him were no tracers combing his hair or flames licking at his feet. Only a man who has faced death and has been scared can fully understand that.
At the gangway the officer of the deck is having his troubles. Alcoholic rebellion is in some of the men. They come back singing and making speeches. Some of them sit on the dock for a last few minutes ashore.
Our mission of war begins at 1218, January 4th when we clear San Diego Harbor.
We are title "X" now, expendable. We learn we are underway for Manus, in the Admiralty Group without escort.
Shellbacks begin making preparations, some of them very mysterious, for the official crossing of the equator. Polliwogs were on the verge of suicide rather than face the tortures prepared for them by the "Trusty Shellbacks".
The day of crossing, January 20, turned up in a rain, but a very good show was run off in spite of it.
On January 21, we entered the bay at Manus Island and unleaded our cargo there.
January 28, underway for Humboldt Bay, Hollandia, New Guinea. Arriving there the 29th. Picked up a load of troops for Leyte, leaving Hollandia, January 31st and arriving at Leyte, February 6th.
Here on February 8th we went to "General Quarters" on an air raid alarm. The clamor of the G.Q. bell put knots in the stomachs of the older men, bringing back memories. It gave the new men their first shock.
We had contact with only one Jap submarine on the way to Leyte. Our escort had laid a pattern of depth charges. Contact was lost. So this was the first "Flash Red".
On the 22nd we were in Tarraguna anchorage. We had been wandering what we were going to do. Rumors were, we would hit Formosa. Straight dope, that it wasn't Formosa, but, the coast of China. In fact to sum up all the scuttlebutt, you could name any place that belonged to the Japs and in a few minutes the dope was out, that we were going to land on it.
From the 22nd of February to March 21st we were busy loading equipment and troops of the 77th Division and in landing operations. We had gone to our battle stations 8 times on "Flash Red" while in the Leyte gulf.
At 1242, March 21, 1945, we were actually on our way as a member of Task Unit 51.1.3 of Task Group 51.1. The training we have put in is ready to pay off.
The Captain announces we are the advance group for the invasion of Okinawa of the Ryukyus Group. We are to attack end take several small Islands near Okinawa.
These islands are the Kerama Retto Group. Love day is April 1st, Easter Sunday, the day set for landing on Okinawa. We are to attack Kerama at L-6 on March 26th.
On the evening d March 25th at 1830 we receive a "Flash Red". A bogey has been reported by radar. To the men who had been in before, this has usually means a night bombing and torpedo attack. Before turning in, these men made sure that life jackets and clothing were laid out so they could be found in the dark.
What sleeping was done that night was restless. Tomorrow was the big day. We would go into an enemy held beach for the first time as a crew. The thoughts and feelings can only be divided into two groups; the new men and the men who had been in.
All men who haven't been in battle are afraid of showing fear, there is the feeling,
Can I take it? The older men had met and recognized this fear, had accepted it and wasn't ashamed of it. They had found that a man can do a lot when he is scared. To these men who had felt the weight of exploding bombs weaken their knees, who had watched tracers zip over and around them and who had seen the death and destruction that a torpedo can cause, came the thought that maybe the odds would catch them tomorrow.
Regardless of feelings and thoughts, 0320, March 26th found us at battle stations off Kuba Shima. At 0433 it was light enough to make out the island.
Boats are launched and prepared for the landing. Word is passed, "The first wave will land about 0800". Something ominous there. Gun crews watch these boats leave. Wondering how it will go with them. Some landings before haven't been easy. Guns are lacing the water with flame. Arcs of tracers form together and march into the beach. No answer can be found from the Jap.
One of the Engine room gang Comes up, asks, "What are they doing over there, do they intend to fight or are they just laying low"? No one answers him as it is a general thought.
To topside people, the hardest job on a ship in action is, in the engine room and fire rooms. They can't see what is happening, the only battle they see is through the ears of their telephone talker.
At 0623 a few suicide planes began making attacks. Cones of fire build up and catch one, everything from a .30 cal. to a five inch are blasting now. Several are shot down. None come near us, we stand with a helpless empty feeling as one dives into the destroyer KIMBERLY. Smoke pours out of her to add to that empty feeling. Realization comes to us, that men are dead and dying there a short distance from us; nevertheless, the first wave moves in.
We are in a way as anxious as a young father in a maternity hospital. Everyone is asking, "How's it over there"?
Word comes over the P.A. system, "Now number 1 davit crew stand by to take on casualties. Hospital corpsman standby to receive casualties". The hospital boat comes along the starboard side and is hoisted to the rail. Stretchers can be seen in the bottom of the boat. One man attempts to sit up. He only has a bullet in his leg, so he says.
Our attention is drawn to one lad covered with a Blanket, the pallor death is on his face. We later learn he has a chance.
This is the payoff on war. The press says "Casualties were light". These don't look so light to us.
We hold our questions until these men are safely aboard and in the hospital. Then the boot crew and doctors give us the story. Rocket ships and destroyers have cleared the beaches, what fighting there is, is mostly snipers.
At dusk we retire to sea, but are back again at daylight.
Men are tired. In the days to follow, when a chance comes, they lie down where they are, and are sound asleep. They sleep according to their natures. Some soundly, some never giving up completely, but dwell in that half-comma between being awake and being asleep, at the first touch or strange noise they are the first to be on their feet. After days of tension, these are the men who find it hard to relax and sleep.
On the 28th, we anchor between Yankin Jima and Aka Shima. Here we are to be exposed to air attack, suicide swimmers with their explosives and suicide boats.
Patrol boats circle the ship continually, carrying smoke-making apparatus. A set challenge has been arranged. Lights can be seen flashing as a challenge has been made or answered. Machine guns are set up on the rails of the ship. The blackness and quiet increases imagination. A night on watch here isn't exactly nerve cure. To add to it, when we get a "Flash Red", G.Q. is sounded, immediately the bull horn blares out, "126 smoke boats, go dead ahead and make smoke". All around us this cal goes out from other ships, calling their smoke boats. Soon a cloud of smoke, pushed by the wind, covers the ship, giving it a ghoulish feeling. The wind plays tricks with the smoke, long curls of it come twisting around the forecastle. Like the reaching tentacles of an octopus it entwines the guns, the boats in their skids, the foremast, then lazily lets go and you can see them again. This smoke gives you a depressed feeling, you are closed in. A Boatswain's mate is cussing, "I joined this navy to fight not to hide behind a cloud of smoke".
People are walking around through and under this blanket, a break appears overhead, everyone looks to see if planes are visible, no one likes this stuff.
On the evening of April 2nd our Task Unit is steaming out to sea for the night. Men are thinking of the possibility of a quiet night. Supper is "piped down" and the watched relieved.
In the radar shack, the screen shows friendly planes all around us, the sky is overcast with clouds. In the fire room the telephone talker hears a lookout yell, "Japs coming in astern", "Planes on the starboard side", "Planes to port".
Coming through the clouds, riding on the friendly beams of our planes, come nine or then Jap suicide bombers. We are caught, almost flat-footed. Guns begin to spout fire.
A "Betty" comes trundling through the fire and dives into the ship ahead of us, hitting her in the vicinity of her bridge, Smoke and flame pour out of her, she loses way rapidly, we have to turn out to go around her. She drifts slowly along our port side. We know men are burning in that fire. One of her guns points crazily toward the sky and begins a steady stream of fire, it ceases abruptly. Shock got someone. An A.P.D. comes up her port side to render assistance.
On our starboard side, a plane hits the radar on a ship, careens off to port hitting the bow, but doing little damage, On another ship one hits the end of a beam, a bomb explodes causing many casualties on the topside.
An enemy plane is seen racing down the starboard side of the column. Tracers are reaching for him, he turns to go into a dive, a stream of 40mm shells meet him pushing him back and down.
A life raft floats past us, one man on it waving frantically, one of the escorts will get him.
You cuss and rave, fighting is fighting, but this isn't human.
Up ahead and to port, one of our escorts takes one and is burning in a pinkish red blaze. It seemed we have been at this for hours, actually it was only minutes, fear comes with the realization of what we are into.
"Secure" goes, we had been at battle stations thirty-seven minutes, a seaman says "Thought my gun was still shooting, but its just my knees knocking together". We have witnessed the extremes that a desperate and defeated enemy can reach. This was sheer fanaticism, no sane people would fight like this.
The hate that was nurtured at Pearl Harbor and through months in the South Pacific, wells up in you now. This is personal.
The next day, having accomplished our purpose on Kerama Retto, we are ordered out of there. For the next week we stay clear of the Japs as much as possible.
On the evening of the 13th we head for Hagushi anchorage at Okinawa. At midnight flashes are picked up on the horizon. Soon we can see flares breaking and can make out gun flashes.
"Bogies" are picked up by radar but darkncss has us soaled in. Some of them come close to us, but if they are searching for us, they fail to see us and no attack develops.
As daylight breaks some of the power of the U.S. Navy is revealed, Wagons, Cruisers and Gans are laying shells into the mountains and valleys of Okinawa.
Four minutes after anchoring off Hagushi Beach an air attack develops, our fighters dispose of them.
On the morning of the 16th, after a night of either being at battle stations or going to them, we are laying off Ie Shima, watching the first wave hit the beach.
At 0825 a large group of enemy planes can be seen attacking destroyers on radar patrol. The destroyer screen is very effective, we see one destroyer shoot down six of them in ten minutes.
It is 0930 before any succeed in breaking through the screen, two "Kates" are observed closing rapidly to port, the first is taken under fire at 8000 yards. He turns North and is ducking and dodging in a superb display of plane handling. Even though you hate him, you have to admire the way he is ducking those shell bursts, but no plane could get through this curtain of "flak". Smoke comes out of him and he wings over into the water, falling about 4000 yards off our port bow.
Kat #2 is taken under fire at 6000 yards, turns South, evades scores of shell bursts and passes us astern, is seen to splash about five miles astern.
During this attack shell fragments are falling all over ship. Soldiers who have ventured to the topside, are observed trying to dig fox holes. One makes the statement that, "No transport should g. to sea without five foot of dirt on her deck".
A Radar station had been established at Point Bolo, all "Bogies" were reported from this station.
A familiar cry during those days, was, "Bogies, 30 miles from Bolo, bearing 275".
Sometimes the number of Jap raids in the air would run up in the twenties. During the day, the Japs would make a few futile attempts to get through the screen but, when dusk came they came in force, some nights we were up practically all the time.
An expression that was a favorite during these days, was "That's all, brother, that's all!" It was most frequently directed at falling Jap planes.
Word comes to the ship, while at Ie Shima, that Ernie Pyle has met his last deadline.
Ernie was one civilian who knew the ways of war, knew the feelings of the men who fought, he knew the loneliness, the fear, the dreams and the boredom that was ours. Ernie Pyle would be proud to know our feelings for him this day.
Here at Ie Shima, we see land fighting at close hand. We see artillery duels and patrols cleaning out Jap pill boxes. Planes are continually dive bombing the peak at the end of the island, where the Japs are organized for their final stand.
On April 19th, we are in force off southern Okinawa to make a fake landing. Boats are loaded and sent toward the beach. Three of our newest battleships parade their terrific fire power, up and down they go laying salvos of 16″ shells into the beach. Here is power no enemy can face. The purpose of this fake attack is to divert the Japs from another front.
We see a type of bombing here, we have never seen before. About 100 planes dive and cut their bombs together, covering a large area with smoke and flame, they are followed by a continual stream of bombers.
Our boats return and since the water has been very rough most of the soldiers are weak from sea-sickness.
We return to Hagushi beach and during the next week finish unloading.
We saw Yontan Airfield bombed, did some shooting ourselves, at times we were covered with shell fragments. At no time was there quiet, ships were carrying on a bombardment through all hours. Talk about ring-side seats, we had one at what proved to be the last big fight of the Japs.
On April 26th we were underway to Ulithi in the Carolines. As a farewell gesture, a Jap mortar stated dropping shells astern of us. Apparently he was just shooting, he hit only water.
With Okinawa over our fantail, we felt much better.
The smoke boat crews, and the men who operated the smoke apparatus, breathed a sign of relief. Their's had been a tough hob, not only having to spend hours in a small boat, but the added danger of being shot at by their own people. A few seconds delay in answering a challenge, and a rain of machine gun bullets was likely to fall on them.
Back on regular "condition three" watches, we caught up on sleep. The comedy began to come out. Nerves began to ease off.
En route to Ulithi, we recceive a shock, the U.S.S. COMFORT has been hit by a suicide plane. The Jap is really desperate when he attacks an unarmed hospital ship. The "Mad" comes out again, One of our shipmates is on that ship, He was badly hurt. Hopes, wishes and a few quiet prayers are thrown in for his safety, but we fear that they might be in vain. We later learn he got through O.K.
Three weeks were spent in Ulithi, cleaning the ship and making necessary repairs. Recreation parties go ashore daily. That ration of beer tastes good. A smoker was held while here and thoroughly enjoyed by all hands.
While here, Captain GLOSTEN is relieved by Commander R. V. BAILLIE.