Photos above from The Elmira, New York, Morning Telegram.1, 3 and Spalding's Official Golf Guide for 1916.2
Tom Hancock was an English golf professional with a long and active career in the United States. He was born in Richmond, Surrey in 1885 to Thomas Hancock, a salesman and Charlotte Ingram, both of Richmond.4 He married Minnie Hopper on 8 May 1916 in Towanda, Bradford County, Pennsylvania.4 Tom began his career in England training with John Henry Taylor at Mid-Surrey in Richmond.5 He then worked as an assistant to James Braid at Walton Heath in Walton-on-the-Hill, Surrey, traveling with him to build and remodel various golf courses in England and Scotland.6 After coming to America in 1910, Tom Hancock held positions as the golf professional at Onteora Park in Tannerville, New York; Richmond Country Club on Staten Island; Houvenkopf Country Club in Suffern, NY;7 Elmira Country Club in Elmira, NY; the Northampton Country Club in Massachusetts;8 at Jersey City, and the Country Club at Arkansas City, Kansas.9 His son Roland Hancock followed in Tom's footsteps and the father-son pair worked together as golf professionals of the Cape Fear Country Club in Wilmington, NC10,11 and Oakland Golf Club in Lynchburg, Virginia.10,12
I took notice of Tom Hancock's career after I found an article about him arranging a golf match with my great-grandfather Alfred John Ward in 1916 with two guests at The Glen Springs resort and sanitarium.13
Tom was the golf professional at Elmira, NY Country Club from 1913-1916 and Alfred was the professional at The Glen Springs in nearby Watkins Glen from about 1916-1919.14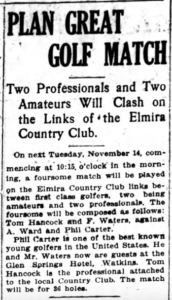 Plan Great Golf Match. On next Tuesday, November 14, commencing at 10:15 o'clock in the morning, a foursome match will be played on the Elmira Country Club links between first class golfers, two being amateurs and two professionals. The foursome will be composed as follows: Tom Hancock and F. Waters, against A. Ward and Phil Carter. – The Elmira (NY) Star Gazette 08 Nov 1916, p2. 14
Several articles from New York State newspapers at this time described Tom Hancock's background in England and his career up to this point in America. The details were strikingly similar to Alfred Ward's career background I had read about in Indianapolis newspapers.
See more information about Alfred John Ward's golf career at: Alfred John Ward – Golf Professional – Alf comes to America and Alfred John Ward – Golf Professional – builds Pleasant Run Golf Course in Indianapolis
Country Club Gets New Man.  Excerpt: Part of Mr. Hancock's training as a [golfer] has been under James [Braid], maker of the best golf sticks, J. H. Taylor, former open champion, and other well-known English golfers. He has been four years in America, and during that time has served at the Suffern Country Club, near New York, at Anteora Park, in the Catskills, and the Richmond Country Club on Staten Island. He had special training for many years on the best Scottish courses. – The Elmira (NY) Star Gazette, 12 Apr 1913, p7.7
Country Club Members Meet. Thomas Hancock, the new golfing instructor and man in charge of the course, made an excellent impression on the members last evening. Mr. Hancock is amply qualified to fill the position which he now holds. He is a native of England and for a number of years worked with Braid and Taylor, the English experts. Since coming to this country he has worked on the metropolitan courses near New York city. – The Elmira (NY) Star Gazette 02 May 1913, p2.5
Country Club is Widening. The employment of Thomas Hancock as professional is a big step in advance,* Hancock is a pupil of Braid, one of the leading professionals of England. He has absorbed Braid's golf methods and ideas and has the gift of teaching them ably. The prices for lessons are reasonable. – The Elmira (NY) Star Gazette 20 Jul 1913, p. 13.6
Alfred Ward had also worked for James Braid at Walton Heath. His first golf position in America was greenkeeper at the Houvenkopf Country Club in Suffern, NY. 15, 16, 17 Alfred and Tom knew each other in a professional capacity in New York and must known each other in England, possibly immigrating to America together. I had not been able to locate Alfred Ward's immigration record of entry into the United States and decided to look into Tom Hancock's records to see if Alfred came over with him or shared a residence with him in England or America.
I found several interesting ship manifests for the years 1910-1911 where Tom Hancock went back and forth between England and America at least three separate times and once between Canada and the USA. It is not clear why he traveled so many times in one year but the contact details he gave and his travel companion are evidence that it was related to his employment as a golf professional and possibly part of his work for James Braid. 
On 4 Jul 1910, Tom arrived in New York on the RMS Baltic,18 traveling with 19 year old Arthur Cant. Arthur was the nephew of James Braid, who he listed as his contact in the UK (Arthur was the son of William Cant and Ellen Wright, who was the sister of Minnie Alice Wright, James Braid's wife). Both listed their contact in America as Mr. Faber of 200 5th St, New York. This would be John Eberhard Faber one of the founders of the Richmond County Country Club (Staten Island) the president and influential member of several golf clubs in the state and country.
Passenger arrival manifest – SS Baltic from Liverpool to New York 04 Jul 1910. Thomas Hancock, 24, prof golfer, contact: friend Thomas Marsh, Celia Cottage, Walton-on-the-Hill, Contact in US: Friend Mr. Faber, 200 Fifth Ave, NY, birthplace: Surrey; Arthur Cant, 19, prof golfer, contact in UK: uncle Jas Braid, Walton-on-the-Hill, Contact in US: Friend Mr. Faber, 200 Fifth Ave, NY, birthplace: Essex.18
Tom Hancock and Arthur Cant returned to England three and a half months later on the RMS Cedric from New York to Liverpool, 23 Oct 1910.19 Thomas Hancock was described as a golf professional on the manifest while Arthur Cant was listed as a valet.
Three weeks later on 12 Nov 1910 both men appear on the SS Baltic departure list from Liverpool20 and on 21 Nov 1910, arrived once again in New York,21 this time listing their contact in the USA as John Mulgrew of Rhyne Ave, Staten Island. He was a golf club maker at the Richmond County Country Club in Staten Island and later a golf professional.
Passenger arrival manifest of SS Baltic from Liverpool arriving in New York 21 Nov 1910. Thomas Hancock, 25, golf instructor; Contact in UK: friend Thomas Marsh, Celia Cottage, Walton on Hill; Destination: NY, Concord, Staten Island; Previously in USA: 1910, Tannersville (NY); Contact in US: Friend Mr. J Mulgrew, 249 Rhyne Ave, Concord SI [Staten Island]; Arthur Cant, 19, valet, Contact in UK: uncle James Braid, Earlsferry, Walton/Hill; Previously in USA: 1910, Tannersville[NY]; Contact in US: Friend Mr. John Mulgrew, 349 Rhyne Ave, Concord.21
At some point, Tom Hancock came back to England because he is listed in the 1911 UK Census in April 1911.22 He was listed as a lodger in the home of Thomas Marsh, 1 Celia Cottages in Walton-on-the-Hill, Surrey. Tom then attempted to return to the USA on the SS St Louis on 6 May 1911 but did not board the ship as his name was crossed out on both departure and arrival manifests.23
Passenger arrival manifest of SS St Louis from Southampton to New York, 14 May 1911. Thomas Hancock, single, golf instructor, residence: Celia Cottages, Walton on the Hill, Surrey, contact in UK: Thomas Marsh, Celia Cottages, Walton-on-the-Hill, Surrey. Destination: Staten Island, NY. Previously in the US 6 months ago at Staten Island, New York; contact in US: Friend, Mr J Mulgrew, 249 Rhyne Ave, Staten Island, New York. [Name crossed out on manifest, did not travel]23
On 27 Jun 1911, Tom Hancock finally arrives in New York from London, having taken the SS Minnewaska, a cattle boat.24 
Passenger arrival manifest of SS Minnewaska from London to New York, 27 Jun 1911. Thomas Hancock, 25, cattleman, residence Walton-on-the-Hill; contact in UK: Wife Mrs. Hancock, Celia Cottages, Walton-on-the-Hill. Destination: New York, NY. Previously in the US 1910 New York; contact in US: none, (says) returning on ship after quarantine (30 days).24
The note about Tom Hancock being a cattleman returning to the ship after 30 days is either an error or he stayed illegally. I believe he was a regular passenger on the cattle boat and just mistakenly grouped with the cattlemen when listed under them. The next week on 4 July 1911, he crosses the border from the USA to Brockville, Ontario at Morristown, NY on the H. P. Bigelow Ferry. A note at the beginning of the passenger manifest states, "Report of Admissions at the port of Brockville, Ontario for the month of July 1911. "Notice 594511 From Ottawa March 1st. The following gentlemen have gone to work on the Canadian Northern Ry at Newborn, Elgin, etc in Ontario."25
Tom returns to the USA in Sep 1911 through the same border crossing from Brockville, Ontario to Morristown, NY.26
List of Alien Passengers Applying for Admission to the United States from Foreign Contiguous Territory Port of Morristown, NY, September 1911. Thomas Hancock, 26, laborer, last residence: Elgin, Canada; final destination: New York, NY; Paid passage se;f, has $50; was last in USA 1908-1910 in NY City; Contact in US: Mr Mulgrew, Staten Island, NY, 5'10", fair, brown hair, blue eyes, born in England, Surrey, landed 24 Nov 1907 in NY on SS Baltic, examined Sep 20. Alfred Warner, 27, laborer, last residence: Elgin, Canada; final destination: New York, NY; Paid passage self, has $50; was last in USA 1908-1910 in NY City; Contact in US: Mr Mulgrew, Staten Island, NY, 5'10", med complexion, brown hair, blue eyes, born in England, Surrey, landed 24 Nov 1907 in NY on SS Baltic, examined Sep 20. 26
This last border crossing to the USA from Canada from Brockville, Ontario to Morristown, New York is the location of the H. P. Bigelow Ferry service where Alfred Ward said his last entry into the USA occurred.27 Alfred's naturalization form lists the date of entry as 29 Sep 1904, which I know is incorrect. The H.P. Bigelow ferry was not operating between Brockville and Morristown until April 1908.28 The 1920 US Census shows Alfred Ward's immigration year as 1911 not 1904.29 So it is likely Alfred Ward, not Warner traveling with Thomas Hancock in this record. The contact they give in the US was the same Mr. Mulgrew on Staten Island (golf club maker and golf pro at the Richmond Country Club) in the previous immigration documents referenced above.30
More to come on Tom Hancock later… 
Reference Notes